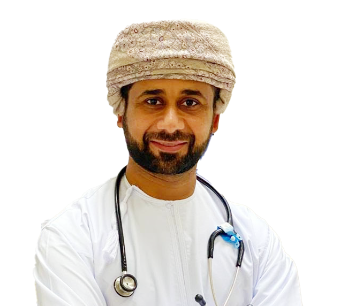 DR Mohammed Said Al Reesi
Consultant Paediatrician & Infectious Diseases (visiting)
Paediatrics & Neonatology
BSC, MD, OMSB-P, CABP
15 years of experience
Sohar (Oman)
About DR Mohammed Said Al Reesi
Dr Mohammed Said Al Reesi is a highly qualified Paediatric consultant in General Paediatrics and Paediatric Infectious Diseases. He is expert in management of different types of infections and other common conditions in children, for example, asthma, allergy and common gastrointestinal problems. He has several publications in his field and he is an Associate Trainer at Oman Medical College. Dr Al Reesi has participated as a speaker in several national and international conferences and attended many other courses to keep himself well-updated. He is a member of Australian Society of Infectious Diseases, European Society of Paediatric Infectious Diseases, American Academy of Paediatrics, Oman Medical Association, Oman Paediatric Society  and other organizations.

Excellence & Experience
Area of excellence
Pneumonia
Other Respiratory Infections (Otitis Media, Tonsilopharyngitis)
Meningitis
Urinary Tract Infections
Allergy and Asthma
Common Gastrointestinal Problems (Abdominal Pain, Vomiting, Diarrhea, Constipation)
Headache and Migraine in Children
Level of Experience
Dr Mohammed Said Al Reesi is working at Ministry of Health, Oman since 2006. He is currently working as consultant pediatrician and Infectious Diseases.
During Fellowship, worked at Sydney Children's Hospital and Westmead Children's Hospital at Sydney, Australia.
Awards & Academics
List of awards
Awarded for several publications
Speaker in many national and international conferences
Awarded among the best pediatricians for the best practice and administrative contribution.
Academics Details
Bachelor of Basic Medical Sciences (BSc), Sultan Qaboos University (SQU), Oman (2003)
Medical Degree (MD), Sultan Qaboos University (SQU), Oman (2006)
Oman Medical Specialty Board in Paediatrics, Oman (2012)
Arab Board of Paediatrics, Qatar, (2012)
Fellowship certificate in Paediatric Infectious Diseases, Sydney, Australia (2016)
Out Patient Timings
The outpatient timings at Badr Al Samaa Hospitals have been planned in such a way that your choice of doctor is available whenever you are free.
Sunday
Monday
Tuesday
5:00 PM - 9:00 PM
Sohar - Oman
Wednesday
Thursday
Friday
Saturday