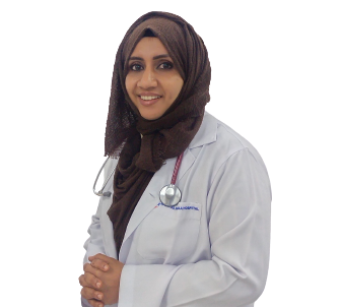 DR Aysha Salam
Specialist Obstetrician And Gynecologist
Obstetrics & Gynaecology
MBBS, MS
6 years of experience
Sohar (Oman)
About DR Aysha Salam
Dr. Aysha Salam has an exceptional experience in areas of high risk pregnancy, gynecological surgeries, laparoscopic and hysteroscopic procedures. She has also managed major obstetric surgeries like obstetric hysterectomy, internal iliac ligation and morbidly adherent placenta. She is experienced in performing all major laparoscopic procedures like total laparoscopic hysterectomy, laparoscopic myomectomy, laparoscopic ovarian cystectomy and hysteroscopic procedures. She also manages cases of infertility and adolescent gynecology. She even performed advanced form of laparoscopy like scar-less laparoscopy or VNOTES procedures.

Excellence & Experience
Area of excellence
Laparoscopy
Hysteroscopy
High Risk Pregnancy
Infertility
Adolescent gynecology
Awards & Academics
Academics Details
MBBS; Government Medical College, Kozhikode, Kerala, India (2009)
MS; Jubilee Mission Medical College and Research Institute, Thrissur, Kerala, India (2016)
Out Patient Timings
The outpatient timings at Badr Al Samaa Hospitals have been planned in such a way that your choice of doctor is available whenever you are free.
Sunday
9:00 AM - 1:00 PM
Sohar - Oman
5:00 PM - 9:00 PM
Sohar - Oman
Monday
9:00 AM - 1:00 PM
Sohar - Oman
5:00 PM - 9:00 PM
Sohar - Oman
Tuesday
9:00 AM - 1:00 PM
Sohar - Oman
5:00 PM - 9:00 PM
Sohar - Oman
Wednesday
9:00 AM - 1:00 PM
Sohar - Oman
5:00 PM - 9:00 PM
Sohar - Oman
Thursday
9:00 AM - 1:00 PM
Sohar - Oman
5:00 PM - 9:00 PM
Sohar - Oman
Friday
Saturday
9:00 AM - 1:00 PM
Sohar - Oman
5:00 PM - 9:00 PM
Sohar - Oman