Badr Network of Hospitals
Badr Al Samaa network of Hospitals come with the brand of excellence where quality healthcare needs are provided with humanness. The venture was started off in Ruwi, Oman, by a group of renowned visionaries in 2002, aiming to provide world-class multispecialty healthcare at affordable costs.
Badr Hospitals in Oman
Oman is a heritage-rich country with a population that has been seeing a steady growth. Having stood at around 2.77 million in 2010, the country is now standing at around 5 million, which is a massive increase in its population. With a growth rate of 9%, it is considered as the fastest growing population in the world and is partly due to an improving healthcare system.
The Badr Al Samaa Group of Hospitals is proud to have been part of this growth with its multi-specialty hospitals being located in key areas spread out across the Sultanate. Every hospital has the stamp of approval from Ministry of Health for adherence to the new healthcare standards and regulations.
Al Hilal Hospital in Bahrain
The Kingdom of Bahrain is a small island country located in the Persian Gulf with an approximate population of about 1.6 million people. About 79% of this population lives in urban areas and is able to access the free or heavily-subsidized medical care provided by the government for its nationals.
Badr hospital is a part of the private healthcare sector here that offers specialized diagnostic, curative and preventive measures to its patients, set in a congenial atmosphere. The highly experienced multi-national experts working here offer specialized and super-specialized treatment modules that helps put patients back on track. Badr has four branches located in key areas here under the banner of Al Hilal hospitals and Medical Centres.
Badr Medical Centre in Kuwait
Kuwait is a small oil-rich country located on the tip of the Persian Gulf. It has a cultural heritage going back to the antiquities and a population that is growing rapidly. A progressive outlook, modern infrastructure and an excellent and upgraded healthcare system are all factors contributing to their surging population graph. This has led to higher life expectancies as well as lower infant and maternal mortality rates.
Badr Al Samaa network of hospitals has been a part of this improvement in the healthcare sector and has a branch here offering multi-specialty treatments manned by highly-respected experts. Backed by the latest technologies and equipments, Badr offers its patients super-specialized treatments that make life worthwhile again.
Badr Medical Centre in UAE
The United Arab Emirates is a melting pot of diverse cultures with about 50% of the population being from south-east Asia and only 20% being of indigenous origin. The Emirati is facing rapid advancement and a steadily increasing population that needs quality healthcare.
Badr Al Samaa Hospital has been a part of the growth seen in this country and provides one of the best and easily affordable healthcare centres. The advanced technical know-how combined with great expertise in diagnostic, curative as well as preventive aspects of health care ensures the best outcomes for all its patents. This hospital network offers its patients over 25 specialties and super-specialties to cater to every type of disease condition.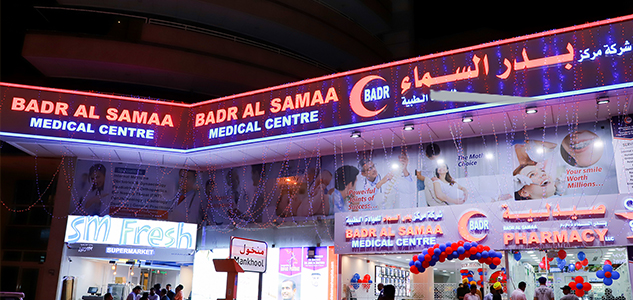 Ask a Question
Didn't find what you are looking for ? Write to Us.
Please fill in your personal details along with your question. We will keep your information strictly confidential.