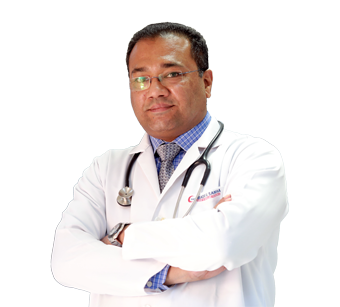 Dr K K JAYAKUMAR
Surgeon
General & Laparoscopic Surgery
MBBS, MS
24 years of experience
Sohar (Oman)
About Dr K K JAYAKUMAR
Dr Jayakumar is an excellent General & Laparoscopic Surgeon with extensive experience spanning over two decades in the surgical management of all types of abdominal, abdominoperineal and colorectal disorders & emergencies. Apart from day care surgeries and OT procedures, he also performs open abdominal surgeries and Laparoscopic procedures. Aside from elective cases, he is also an expert in handling trauma cases requiring surgical interventions. Dr Jayakumar always endeavours to stay abreast with the latest surgical developments by regularly attending international and domestic workshops and conferences conducted by reputed organizations.
Excellence & Experience
Area of excellence
Appendicectomy
Cholecystectomy
Open and Laparoscopic surgeries of all types of Hernia, Neck Masses, Thyroid and Salivary gland disorders
Surgery of all types of Breast diseases
Level of Experience
Dr Jayakumar has served as a consultant surgeon in various tertiary level corporate hospitals in India having world-class facilities in Minimal access surgery.
Awards & Academics
Academics Details
MS (General Surgery) - VSS Medical College - 2002
MBBS - VSS Medical College, Sambalpur University - 1999
FMAS - Fellowship in Minimal Access Surgery
Out Patient Timings
The outpatient timings at Badr Al Samaa Hospitals have been planned in such a way that your choice of doctor is available whenever you are free.
Sunday
9:00 AM - 1:00 PM
Sohar - Oman
5:00 PM - 9:00 PM
Sohar - Oman
Monday
9:00 AM - 1:00 PM
Sohar - Oman
5:00 PM - 9:00 PM
Sohar - Oman
Tuesday
9:00 AM - 1:00 PM
Sohar - Oman
5:00 PM - 9:00 PM
Sohar - Oman
Wednesday
9:00 AM - 1:00 PM
Sohar - Oman
5:00 PM - 9:00 PM
Sohar - Oman
Thursday
9:00 AM - 1:00 PM
Sohar - Oman
5:00 PM - 9:00 PM
Sohar - Oman
Friday
Saturday
9:00 AM - 1:00 PM
Sohar - Oman
5:00 PM - 9:00 PM
Sohar - Oman