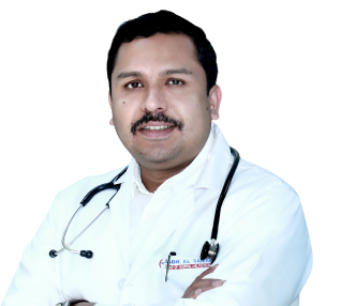 Dr Asif Abdul Hameed
Specialist Pediatrician
Paediatrics & Neonatology
MBBS, DCH, FICM, DCH (UK), EBP
Sohar (Oman)
About Dr Asif Abdul Hameed
Dr. Hameed is working in Badr Al Samaa, Sohar, Sultanate of Oman since 2013 as a Specialist in Paediatrics. A graduate in MBBS from Government Medical College, Trivandrum, Kerala, India Dr. Hameed completed his post-graduation from the Institute of Child Health, Government Medical College Kottayam, Kerala, India under Kerala University of Health Sciences. He entered into the field of pediatrics with a view of improving child health. He is also trained in Critical Care Medicine from Apollo Hospital, Hyderabad, India.Dr. Hameed has become the most recognized and sought after Paediatician of the North Al Batinah region.

Excellence & Experience
Area of excellence
Critical Care Pediatrics
Neonatology
Level of Experience
Worked in Private and Government hospitals in Kerala. He is a member of Indian Medical Association and Indian Academy of Paediatrics.
Awards & Academics
Academics Details
MBBS, Government Medical College Trivandrum, Kerala,India (2006)
DCH, Government Medical College, Kottayam, Kerala, India (2012)
FICM (Fellowship in Critical Care), Apollo Hospitals, Hyderabad, India (2015)
EBP- Board Certification by European Board Of Pediatrics
DCH (UK) - Royal College of Pediatrics and Child Health UK
Diploma in Pediatrics (Ireland)- Royal College of physicians of Ireland
Out Patient Timings
The outpatient timings at Badr Al Samaa Hospitals have been planned in such a way that your choice of doctor is available whenever you are free.
Sunday
9:00 AM - 1:00 PM
Sohar - Oman
5:00 PM - 9:00 PM
Sohar - Oman
Monday
9:00 AM - 1:00 PM
Sohar - Oman
5:00 PM - 9:00 PM
Sohar - Oman
Tuesday
9:00 AM - 1:00 PM
Sohar - Oman
5:00 PM - 9:00 PM
Sohar - Oman
Wednesday
9:00 AM - 1:00 PM
Sohar - Oman
5:00 PM - 9:00 PM
Sohar - Oman
Thursday
9:00 AM - 1:00 PM
Sohar - Oman
5:00 PM - 9:00 PM
Sohar - Oman
Friday
Saturday
9:00 AM - 1:00 PM
Sohar - Oman
5:00 PM - 9:00 PM
Sohar - Oman