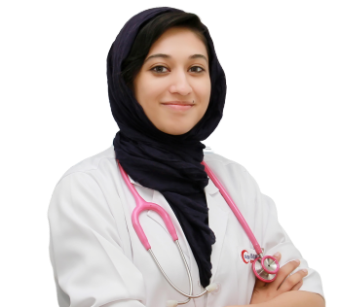 Dr Nawal Choudhry
General Practitioner
General Practice
MBBS
6 years of experience
Sohar (Oman)
About Dr Nawal Choudhry
Dr Nawal Choudhry is an excellent young General Practitioner who manages both adult and paediatric patients. She follows up on patients with chronic conditions who need regular monitoring. She is quick to make correct diagnosis and administer appropriate treatment at the earliest. Her compassionate nature makes her popular among patients and she manages the OP clinic effectively. Her training is put to good use in the Emergency section too where she manages trauma patients in acute conditions and performs minor surgical procedures like suturing, wound closures, etc. Where needed, she refers her patients to specialists. 

Excellence & Experience
Area of excellence
CCU
Chest medicine
Paediatrics
Women and child health
Emergency & Critical Care medicine
Level of Experience
Royal Hospital (CCU+Chest Medicine+General Medicine), Muscat
Sultan Qaboos University Hospital (General Surgery +Emergency Care), Muscat
Ministry Hospital (Paediatrics) - Suhar
General Practitioner - Badr Al Samaa group of hospitals - June 2019
Awards & Academics
Academics Details
MBBS- Oman Medical College, Suhar, Sultanate of Oman-2017
Out Patient Timings
The outpatient timings at Badr Al Samaa Hospitals have been planned in such a way that your choice of doctor is available whenever you are free.
| | | |
| --- | --- | --- |
| Sunday | Falaj Al Qabail - Oman | Falaj Al Qabail - Oman |
| Monday | Falaj Al Qabail - Oman | Falaj Al Qabail - Oman |
| Tuesday | Falaj Al Qabail - Oman | Falaj Al Qabail - Oman |
| Wednesday | Falaj Al Qabail - Oman | Falaj Al Qabail - Oman |
| Thursday | Falaj Al Qabail - Oman | Falaj Al Qabail - Oman |
| Friday | Falaj Al Qabail - Oman | Falaj Al Qabail - Oman |
| Saturday | Falaj Al Qabail - Oman | Falaj Al Qabail - Oman |