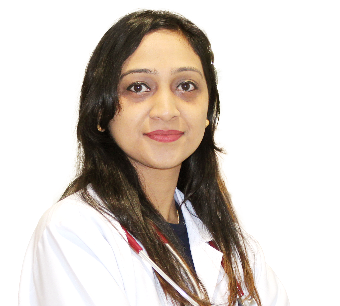 Dr Celia Soni Saldanha
Specialist Dermatologist
Dermatology
MBBS, MD, FAM
10 years of experience
Sohar (Oman)
About Dr Celia Soni Saldanha
Dr. Celia Soni Saldanha has outstanding diagnostic skills and ability to deliver effective treatment for timely and full recoveries. She possesses extensive expertise in Q switched Laser treatments, Laser hair removal (IPL), CO2 Laser, chemical peels, microdermabrasion, vitiligo surgeries, electrosurgery, radiofrequency surgeries, cryosurgery, phototherapy etc. She has Comprehensive training in performing skin surgeries including cosmetic procedures and wide range of knowledge in skin, hair and nail disorders. She has good knowledge and experience of latest treatment options for cancerous skin conditions. She has multiple academic publications in national and international dermatology journals.
Excellence & Experience
Area of excellence
Electrocautery and Radio-frequency Surgeries
Mole
Sebaceous cyst
Lipoma removal
Nail avulsion
Ear and nose piercing
Ear lobe repair
Chemical peels
PRP
Dermaroller
Dermapen
Lasers(hair, scars and tattoo removal)
Botox & fillers
Hydrafacial
Level of Experience
She has worked as Assistant Professor in Yenepoya Medical College Hospital and Kanachur Medical College & Research Centre, India. In K Govindswamy Hospital, Tamil Nadu as Consultant Cosmetic Dermatologist. She also worked as senior resident in Kasturba Medical College and Hospital, Manipal University, India. Prior to joining Badr Al Samaa Group of Hospitals she was working at KIMS Hospital, Oman.
Awards & Academics
Academics Details
Bachelor of Medicine and Bachelor of Surgery (MBBS); Father Muller Medical College, Mangalore (2009)
Doctor of Medicine (MD), Dermatology, Venereology and Leprosy; Father Muller Medical College, Mangalore (2013)
Fellowship in Aesthetic Medicine (FAM); IADVL, Affiliated to Ernst Moritz Arndt University of Greifswald, Germany (2015)
Out Patient Timings
The outpatient timings at Badr Al Samaa Hospitals have been planned in such a way that your choice of doctor is available whenever you are free.
Sunday
9:00 AM - 1:00 PM
Sohar - Oman
5:00 PM - 9:00 PM
Sohar - Oman
Monday
9:00 AM - 1:00 PM
Sohar - Oman
5:00 PM - 9:00 PM
Sohar - Oman
Tuesday
9:00 AM - 1:00 PM
Sohar - Oman
5:00 PM - 9:00 PM
Sohar - Oman
Wednesday
9:00 AM - 1:00 PM
Sohar - Oman
5:00 PM - 9:00 PM
Sohar - Oman
Thursday
9:00 AM - 1:00 PM
Sohar - Oman
5:00 PM - 9:00 PM
Sohar - Oman
Friday
Saturday
9:00 AM - 1:00 PM
Sohar - Oman
5:00 PM - 9:00 PM
Sohar - Oman