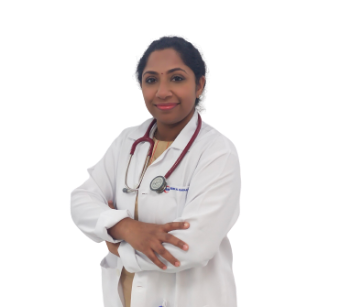 DR Prathibha Ajaykumar
Specialist ENT
ENT
MBBS, MS (ENT)
3 years of experience
Sohar (Oman)
About DR Prathibha Ajaykumar
Dr. Prathibha Ajayakumar is a diligent and energetic member of our elite team of doctors. She is dedicated to delivering the best care for her patients and catering to all their ears/nose/throat health concerns. She has trained extensively in most ENT procedures and has performed successful surgeries of the ears, nose and throat, both in India and Oman. She is an excellent clinician with very good communication skills and is adept in managing both outpatient and emergency cases in ENT.
She is a lifetime member of the Indian Medical Association
Excellence & Experience
Area of excellence
Adenoidectomy
Tonsillectomy
Tongue tie release
Septoplasty, turbinoplasty, nasal bone fracture reduction
Functional Endoscopic Sinus Surgery
Myringotomy and grommet insertion
Tympanoplasty
Preauricular sinus excision
Ear lobe repair
Removal of foreign bodies of ears, nose and throat
Evaluation and management of vertigo
Otondoscopy, nasal endoscopy, laryngoscopy
Management of ENT emergencies like nasal bleed, facial trauma, lacerations of pinna, stridor, etc.
Level of Experience
She has worked as Consultant ENT surgeon in India before joining Badr Al Samaa Group of Hospitals.
Awards & Academics
Academics Details
MBBS; Medical College, Thiruvananthapuram, Kerala, India (2010)
MS (ENT); Jubilee Mission Medical College and Research Centre, Thrissur, Kerala (2018)
Out Patient Timings
The outpatient timings at Badr Al Samaa Hospitals have been planned in such a way that your choice of doctor is available whenever you are free.
Sunday
9:00 AM - 1:00 PM
Sohar - Oman
5:00 PM - 9:00 PM
Sohar - Oman
Monday
9:00 AM - 1:00 PM
Sohar - Oman
5:00 PM - 9:00 PM
Sohar - Oman
Tuesday
9:00 AM - 1:00 PM
Sohar - Oman
5:00 PM - 9:00 PM
Sohar - Oman
Wednesday
9:00 AM - 1:00 PM
Sohar - Oman
5:00 PM - 9:00 PM
Sohar - Oman
Thursday
9:00 AM - 1:00 PM
Sohar - Oman
5:00 PM - 9:00 PM
Sohar - Oman
Friday
Saturday
9:00 AM - 1:00 PM
Sohar - Oman
5:00 PM - 9:00 PM
Sohar - Oman