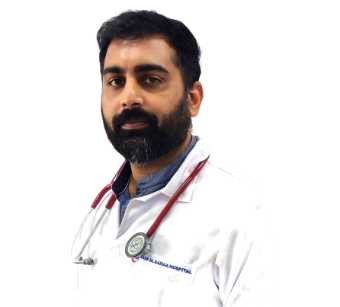 DR Nithin Pratap
Oral And Maxillofacial Surgeon & Dental Specialist
Oral and Maxillofacial Surgery
BDS, MDS
15 years of experience
Sohar (Oman)
About DR Nithin Pratap
Dr Nithin Pratap is a specialist in oral and maxillofacial surgery. He has imparted knowledge to more than 300under graduate students and guided more than 12 post graduates. He has more than 10 publications in National and International journals. He is involved in the management of orofacial pains and infections, trauma/injuries of oral cavity and face, cosmetic procedures to enhance facial aesthetics, surgical treatments in mouth including removal of wisdom teeth/teeth submerged in bone, enucleation of cysts and excision of growths/tumors. He is also an expert in abscess drainage, salivary gland diseases, jaw joint problems, biopsies and more. He performs procedures under local anesthesia in the dental office and complicated procedures under general anesthesia in operation theatre.
He is an active member of Indian Dental Association and a life member in Association of Oral and Maxillofacial Surgeon in India.

Excellence & Experience
Area of excellence
Surgical Extraction of Teeth
Trauma / Injuries of Oral Cavity and Face
Treatment for Teeth Related Cyst and Tumour
Jaw Joint Problems
Facial Esthetics
PRP Injections for Hair Rejuvenation
Level of Experience
He has a rich experience of more than 1.5 decade in both clinical and medical education institutions in India.
Awards & Academics
List of awards
Best Paper Award in Kerala State IDA Conference
Chief Editor of Pushpagiri News Letter - 2020 to 2021
CDE Chairman of Central Kerala Kottayam Branch- 2019 to 2021
Best Third CDE Chairman in The State for Two Consecutive Years
Academics Details
BDS; Mar Baselios Dental College, India (2008)
MDS; Coorg Institute of Dental Sciences, India (2013)
Out Patient Timings
The outpatient timings at Badr Al Samaa Hospitals have been planned in such a way that your choice of doctor is available whenever you are free.
Sunday
9:00 AM - 1:00 PM
Sohar - Oman
5:00 PM - 9:00 PM
Sohar - Oman
Monday
9:00 AM - 1:00 PM
Sohar - Oman
5:00 PM - 9:00 PM
Sohar - Oman
Tuesday
9:00 AM - 1:00 PM
Sohar - Oman
5:00 PM - 9:00 PM
Sohar - Oman
Wednesday
9:00 AM - 1:00 PM
Sohar - Oman
5:00 PM - 9:00 PM
Sohar - Oman
Thursday
9:00 AM - 1:00 PM
Sohar - Oman
5:00 PM - 9:00 PM
Sohar - Oman
Friday
Saturday
9:00 AM - 1:00 PM
Sohar - Oman
5:00 PM - 9:00 PM
Sohar - Oman