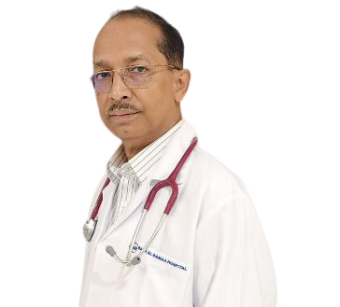 DR Kamal Pasha

Consultant - Interventional Cardiology
Cardiology
MBBS, MD, FACC, FSCAI
18 years of experience
Sohar (Oman)
About DR Kamal Pasha

Dr Kamal Pasha graduated from Sir Salimullah Medical College in 1990 and obtained his post-graduation, MD Cardiology in 2005. Dr Kamal Pasha has experience of successfully accomplished more than 2000 cardiac interventional procedures including more 200 PCI/ Coronary Stenting including primary PCIs and about 50 permanent pace maker procedures including AICD implantations till the end of 2022. Dr Kamal has a good number of publications in reputed national and international journals. As invited faculty, he has presented cases and moderated and chaired sessions in in different national and international seminars, symposiums and workshops.
He is a life member of Bangladesh Cardiac Society and Bangladesh Society for Cardiovascular Interventions.

Excellence & Experience
Area of excellence
Coronary Angiogram
Coronary Angioplasty / Stenting (Including Primary PCI)
Permanent Pacemaker Implantation (Including AICD Implantation)
Level of Experience
He has almost two decades of experience as Clinical and Interventional Cardiology and had worked with many major healthcare institutions before joining Badr Al Samaa Group of Hospitals.
Awards & Academics
Academics Details
MBBS; Sir Salimullah Medical College, Bangladesh (1990)
MD (Cardiology); National Institute of Cardiovascular Diseases (NICVD) under Bangabandhu Sheikh Mujib Medical University (BSMMU), Bangladesh (2005)
Fellowship of American College of Cardiology (FACC) (2017)
Fellowship of the Society for the Cardiovascular Angiography and Interventions (FSCAI) (2016)
Out Patient Timings
The outpatient timings at Badr Al Samaa Hospitals have been planned in such a way that your choice of doctor is available whenever you are free.
Sunday
9:30 AM - 1:30 PM
Sohar - Oman
5:30 PM - 9:30 PM
Sohar - Oman
Monday
9:30 AM - 1:30 PM
Sohar - Oman
5:30 PM - 9:30 PM
Sohar - Oman
Tuesday
9:30 AM - 1:30 PM
Sohar - Oman
5:30 PM - 9:30 PM
Sohar - Oman
Wednesday
9:30 AM - 1:30 PM
Sohar - Oman
5:30 PM - 9:30 PM
Sohar - Oman
Thursday
9:30 AM - 1:30 PM
Sohar - Oman
5:30 PM - 9:30 PM
Sohar - Oman
Friday
Saturday
9:30 AM - 1:30 PM
Sohar - Oman
5:30 PM - 9:30 PM
Sohar - Oman